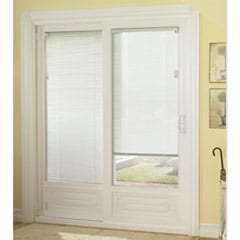 (SPD-ULTRA)
The Ultra Patio Door Sliding Collection from Majesticon Inc. allows you to invite the outdoors into your home without sacrificing comfort or security. Ultra Sliding glass patio doors aren't just for patios these days; they are at home in any room. Brighten your home with endless natural light and the beauty of the outdoors, without going outside.
The classic sight lines and ease of operation combined with several color options allows this door to fit anywhere in your home.
The Ultra Sliding Patio Door Collection is available in several standard sizes in two and four panel configurations and is fully customizable to your specifications.
The precision engineering behind these products results in smooth, easy operation and tight, secure closure. If you desire to add a patio door to your home, Majesticon's Ultra Sliding Glass Doors are available with all the necessary interior and exterior trim options to finish the job.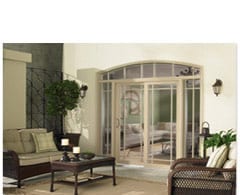 Sliding Glass Doors Features & Benefits
The Ultra Patio Door all uPVC 5 ¾" frame is multi-chambered to provide maximum strength and thermal efficiency
Operating sashes are fusion welded and include steel reinforcement for added security and long lasting performance.
A sloped sill and internal weeps ensure optimal water drainage.
Triple weather-stripping at side jambs and a full interlock on sashes provide the best possible protection from air and water penetration.
Self-lubricated double tandem adjustable rollers provide smooth operation and durability on an anodized aluminum tract.
Heavy duty extruded aluminum screen frame with fibreglass mesh and 4 adjustable rollers contribute to effortless operation for years to come.
Reversible panels for left or right operation