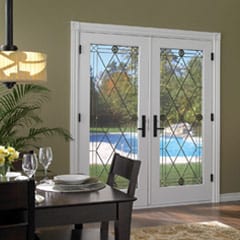 (FPD-ULTRA)
Our Ultra Patio Door Swing Collection incorporates superior structural integrity along with quality and unmatched performance with our exclusive all uPVC and aluminum reinforced frame system.
A truly unique door system that offers full customization from size to hardware, colour and an extensive glass selection, unmatched in the industry today.
Majesticon Windows will again be the industry leader with The Ultra Patio Door System and will change the way entry doors are produced. The frames are welded on all four corners which guarantee an airtight seal and a perfectly square doorframe every time. The structural reinforcement is strategically positioned to strengthen key areas of the frame that support the adjustable hinges and the standard multipoint hardware. The system is available with our cap-stock exterior colures and all the interior and exterior trim accessories match perfectly with our window products.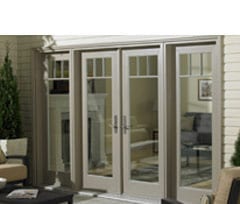 Swinging French Patio Doors Features And Benefits
Create beautiful vistas and allow natural light to enhance your interior living space, plus create a unique architectural flavor for your home.
The Ultra Patio Door Swing Collection can be combined with several sidelights, transoms, grill & glass options along with multiple operational configurations to create an entrance truly customized for you.
Standard sizing is available including 8′ high doors but your choices are endless with our automated manufacturing capabilities that will create the door of your dreams.