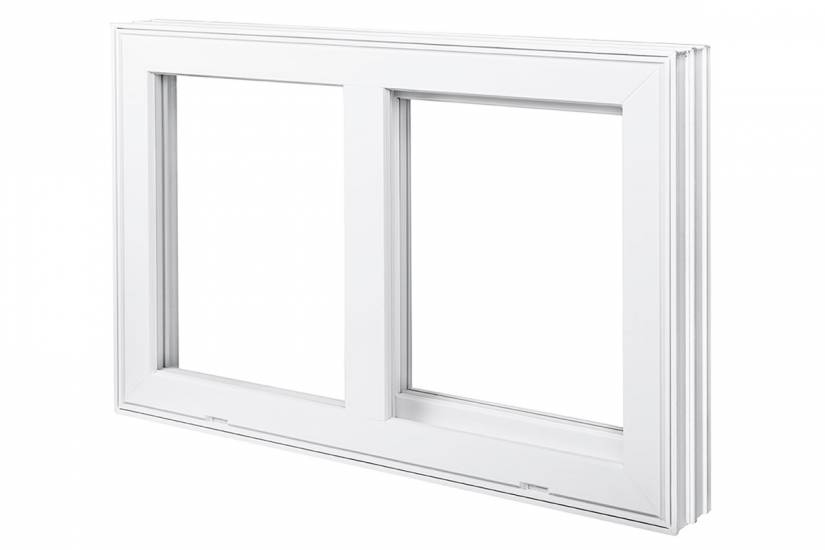 Double Slider Windows
Classic Collection (WC-260)
Majesticon's Double Sliding Windows are the most popular choice of home owners due to their operational ease, simple yet classic look and adaptability to virtually any space in the house. Their smart design is the perfect solution for smaller spaces that cannot allow the use of an exterior projecting window. Double Sliding Windows also work great for larger spaces where maximum ventilation is required. Both of the sashes till inwards which makes it easier to clean the outside of the window from inside the house, and the screen can easily be removed.
Get A Free Estimate
Features & Benefits
Strong fusion-welded frame and sash corners keep cold air out.
Multi-chambered design insulates and prevents condensation.
Triple co-extruded weather-strip sealing for added insulation value.
90° sash opening lets you clean easily from inside.
Interior glazing system with flexible sash seal eliminates leaks.
Drainage channels on exterior sash, not visible from inside.
Easy-clean, removable overlap internal screen.
Multi-point locking system provides additional security.
3/4″ double-strength glass for optimum insulation efficiency.
Dual Arm Truth Maxim™ system hardware for effortless operation.
Options & Accessories:
Glazing (Glass) Options
Super Spacer

Majesticon windows come standard with Super Spacer, the world's only 100% polymer foam, No-metal Warm Edge spacing system. "Thermal efficiency through no presence of conductive metals" is Super Spacer's hallmark. The edge of the insulating glass unit is indeed the most vulnerable to heat and cooling loss, condensation and frosting. Super Spacer's NO-Metal formula blocks the heat escape path and provides one of the best thermal performances in the industry. The result is visibly less condensation and the elimination of harmful mold on your windows.

LoĒ-180™

We upgraded our glass with the latest technology, so when the weather turns frigid, LoĒ-180™ glass is the perfect cold remedy. It provides excellent insulating capability, blocking heat loss to the outside and reflecting heat back into the room plus it allows the winter sun's heat to pass into the home. The dramatic improvement in comfort from windows with warm glass surfaces also means the relative humidity of the indoor air can be controlled and maintained properly. The better insulated the window glass, the warmer your room will be.

Triple Pane

Triple pane consists of two lites of Low-E coated glass with an interior glass substrate, which creates two insulating chambers. These chambers can be filled with either argon or krypton gas. Triple pane will provide maximum R-values, reduced sound transmission and 95% UV blockage all in one unit.

Argon Gas

An additional energy efficiency benefit available with any Low-E glass option. Argon gas is an inert gas that is 40% denser than air. This density will create greater resistance to the transfer of heat and cold through your windows and will increase the efficiency of your windows by 30%.

Tri-Pane Safe Vision™

Tri-Pane Safe Vision™ laminated glass is produced by bonding a combination of plastic vinyl layers and polyester film between two panes of glass pressed into a single sheet. The third pane of low-E coated glass completes the sealed unit. Laminated glass provides maximum safety from breakage, sound transmission and blocks 99% of damaging UV rays.

Krypton Gas

Krypton is denser than argon creating even greater resistance to energy transfer through your glass. Krypton performs best in smaller insulated air spaces. This is an ideal complement to the triple pane units creating higher R-values.

Easy Clean Glass

Easy to clean window glass just got better with Neat™ naturally clean glass. No manual activation required, just a little help from the sun. The titanium dioxide layer of Neat™ glass reacts chemically with the sun's UV rays and causes organic materials that are on the glass to decompose. It works even on cloudy days, as 80% of UV radiation gets through cloud cover. Thus when it rains the decomposed dirt no longer clings to the glass and easily rinses away.

Colour Options
Standard Exterior Paint Colours
Barren Plain
Black Iron
Brick Red
Brown
Classic Burgundy
Dark Beige
Dark Bronze
Deep Royal Blue
Fiddlehead Green
Ivory
Normandy
Peale Green
Sandalwood
Sandstone
Sandy White
Stone Harbour
Tawny Rose
White
Exterior Capstock Options
Dark Bronze
Sandstone
White
Interior Color Options
White
Grilles & Divided Lites Options
Grilles & Divided Lites Styles
Georgian 1″
Georgian 11/16″
Pencil
SDL 5/16″
SDL 5/8″
Grilles & Divided Lites Patterns
3-1
3-2
4-1
4-2
Prarie
Rectengular
Square